02 Jul

CASE: Organics by Red Bull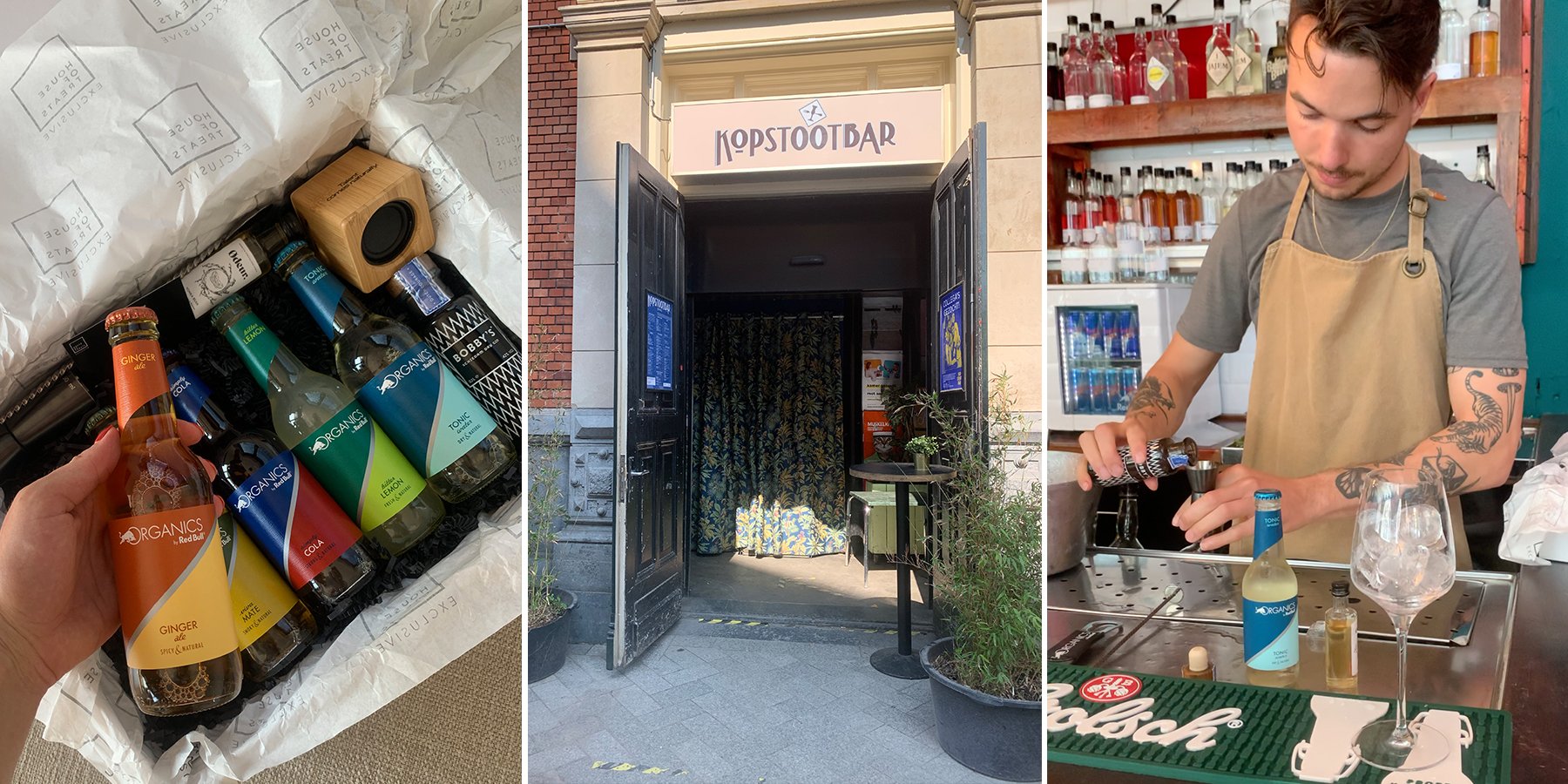 Red Bull is branching out! They've created a new soda drink: ORGANICS by Red Bull. It's refreshing, 100% natural and (what's in a name!) organic.
To put them on the map and gain qualitative market insights Red Bull's 'on premise marketing specialist', Maaike van Lerberghe, knew she could call House of Treats.
Collaboration objectives
Measuring brand- association, -awareness and -sentiment;
Measuring purchase intention after the first encounter;
Learning about customer behaviors concerning the use of soft drinks and organic sodas;
Competitive analysis;
Attract physical visitors to the Kopstootbar and measure how they experience the location and, of course, ORGANICS;
Build a community of micro-influencers.

The ORGANICS-box
June 2021; after a year full of rules, restrictions and uncertainties the wait was over. Bars could finally re-open their terraces. It was the moment we were all so eagerly waiting for.
To celebrate this, and ORGANICS by Red Bull, the exclusive ORGANICS x House of Treats box consisted of:
A voucher for the Kopstootbar in Amsterdam. With this voucher members could enjoy delicious bites and ORGANICS cocktail, together with friends;
Exclusive ORGANIGS merchandise and tools with everything you need to make cocktails at home;
Last, but certainly not least, an eco-friendly mini music box which you can carry around to anywhere. Music is of course an important domain for Red Bull and with this box Red Bull makes sure our members can listen to music everywhere.

The results
The box was issued to 150 of our community members. In the convenience of their own home they tried the soft drink in combination with delicious cocktails (and mocktails of course). No fewer than 140 groups came to the Kopstootbar via the box. There, they immersed themselves in the ORGANICS-experience.
House of Treats received an extensive questionnaire from each of them. This way we collected information about their brand image and association, preferred brands and purchase intention.
The social reach grew, via the House of Treats channels, the micro-influencers and the influencers specially invited by us, to a reach of more than 260,000 views
To be continued..
With this information at hand, ORGANICS is able to make choices with regard to hospitality, communication and innovation. The next meeting will show whether the brand awareness for ORGANICS has grown in six months, so stay tuned!
Curious about the possibilities for your brand? Let's talk!
Contact us